Van-Healsing
Sean

by Matthew Burger
CHARACTER NAME
PLAYER NAME
Hardcore Heroes
2.Neal
SERIES
SYSTEM
Level 8 Cleric of Chis
Neutral Good
CLASS & LEVEL
ALIGNMENT
Human
Male
RACE
GENDER
6' & 200lb
22 (DOB 1487)
HEIGHT & WEIGHT
AGE
Medium & 12
Right
SIZE & SPEED
HANDED

Long Blonde

Blue

46
16
9
15

HAIR

EYES

Max HP
Strength
Dexterity
Constitution

Tall, somewhat effeminate

14
17
17
15

APPEARANCE

Intelligence
Wisdom
Charisma
Perception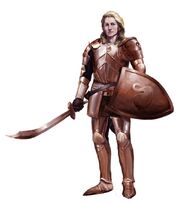 First appeared in Hardcore Heroes episode 1.
Last appearance was Hardcore Heroes episode 44.
A description of Van-Healsing's appearance would depend on who you asked. To some, he is a beautiful man, capable of catching the eye of even the finest damsel of any tavern. To others, his appearance is effeminate, lacking the manliness one would expect from a male authority figure. His flowing, shoulder-length golden locks, his sharp, clean-shaven face, and soothing, deep voice, lead to an odd yet impossibly charismatic individual.
History
Growing up, Van trained to follow in his father's footsteps as a stonemason. Hard work as a child led to his development of a wiry frame. While working in the temple, Van wears simple robes common to priests. While traveling on the road, or expecting trouble, he wears a well-kept set of bronze scalemail, and carries a simple kiteshield with the symbol of Chis etched onto its face, as well as an elegant bronze scimitar.
Weapon Proficiencies
Scimitar
Small Shield
Plate armor
Non-Weapon Proficiencies
Ancient history
Artistic Ability
Cooking
Mathematics
Reading/writing
Religion
Spellcraft
Stonemasonry
Equipment
Harvest Moon
Wind Shear
Longbow
Field plate
Small shield
Holy symbol
Portable chessboard
Magic Item Descriptions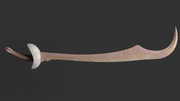 Harvest Moon
+2 Scimitar. On it's blade you can tell the phase of the moon. Lightweight. Has unknown strength against werewolves.
Wind Shear
+2 Scimitar. The pommel is stained hardwood in the shape of a falcon's head, open in eternal cry. The handle is wrapped in tanned wyvern leather. The crossguard is petrified wood in the shape of wings. The blade is high carbon steel with a white tint to it. Used to be owned by Sheriff Cody of Thornwood.
Spells
Languages
Common, Dwarven, rudimentary Halfling