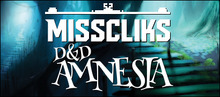 In this high-fantasy story, a group of people wake up together in the back of a wagon with no memories. Why are people out to kill them? Who are they? Where do they come from? What are even their names? Together they will find out.
Cast
Neal 'Koibu' Erickson - DM
Anna Prosser Robinson - Tree (changes names frequently)
Stephanie "Miss Harvey" Harvey - Cloud
Geneviève 'livinpink' Forget - Bunny, Glib Glob
Jess Brohard - Victoria
Angelina DiFiore - Waterdance
Episodes
Community content is available under
CC-BY-SA
unless otherwise noted.