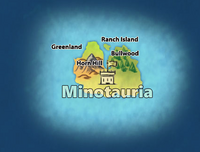 Minotauria is the current homeland of the Minotaurs.
Minotauria is the name of the larger of the two islands that comprise the nation of Minotauria. The smaller island called Ranch Island.
The capital of the Minotauria nation is Minotauria, located on the larger island, Minotauria.
The code of laws is known as Minotauria.