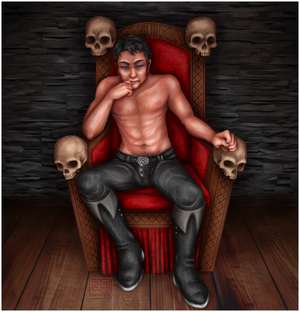 Note: Natural Lifespan 103
Following the fall of the Kingdom of Gadia in 1380, the Winter family, former Barons, fled in the Blumwood and lived "off the grid".
Malcifer Winter, a tall & imposing 25 year old Human noble, is the ruler of Winter's Reach, a hidden village on the edge of the Blumwood on Gade Isle. The village is comprised of the Winter Estate House and a small number of villager buildings half a mile away. Around the estate itself is a wall made of rosebushes, where the old real walls once stood before the Conquest of the Kingdom of Gadia took place 130 years ago.
In the village the huts were made of former wagons. There was once an orchard, but it was destroyed a year ago by Brimstone, the Fire Incarnate. The lumber-mill however still stands. At the heart of the village is a Church that isn't in the Eridonan style. They worship the "Old Gods" aka the forgotten Winter Gods.

Family Sign: A Red M overlaid a Black W. The lines are angled at 90°. Resembles a series of stitches
First appeared in Dicing with Death Episode 145.
Show/Hide Spoiler
Weapon Proficiencies
Edit
Non-Weapon Proficiencies
Edit
Anatomy
Literacy
Undead Lore (2)
Horse Riding
Torturing
Local History
Animal Handling
Embalming (gained level 3)
Equipment
Edit
Bardiche Axe
Light Crossbow
Leather Jacket (leather armor)
Chainmail
Current List (Document is very out of date. Current version is 0.7 document, which isn't public)
Level 7: Necrograft (attach dead limbs to people missing limbs), Soul Siphon (create Nightmares and Specialist Undead)
Languages
Edit
Community content is available under
CC-BY-SA
unless otherwise noted.