Malakai
Nick Prouvost

by Matthew Burger
CHARACTER NAME
PLAYER NAME
Hardcore Heroes
2.Neal
SERIES
SYSTEM
Level 9 Wizard
Lawful Neutral
CLASS & LEVEL
ALIGNMENT
Human
Male
RACE
GENDER
6'1" & 175lb
21 (1488)
HEIGHT & WEIGHT
AGE
Medium & 12
Right
SIZE & SPEED
HANDED

Long blonde ponytail

Grey-Blue

18
10
9
10

HAIR

EYES

Max HP
Strength
Dexterity
Constitution

17
10
10
13

APPEARANCE

Intelligence
Wisdom
Charisma
Perception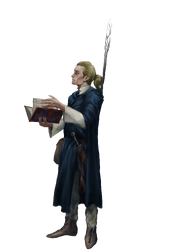 First appeared in Hardcore Heroes episode 1.
Last appearance was Hardcore Heroes episode 44, so far.
He is not strong but is in good shape, cutting a lean figure in well tailored garments.
Malakai is a man who likes to keep himself looking sharp. Buying the best clothes he can afford he wears a navy blue robe with fine gold threaded embroidery over well crafted travelling clothes, white shirt, brown pants and a black crevatte.
He holds himself with good posture, and wears his shoulder length blonde hair held back with a headband.
He has a strong jaw, light blue piercing eyes, a straight nose and a smirk on his lips.
He carries a dagger and a sling under his robe and a staff at most times. The staff is a carved, sanded and varnished wooden oak staff.
Weapon Proficiencies
Non-Weapon Proficiencies
Reading/Writing
Swimming
Navigation
Seamanship
Artistic Ability: Drawing
Etiquette
Cartography
Spellcraft
Ancient History: Archaeology
Bureaucracy
Equipment
Power Pole (+2, could extend) Lost in Episode 42
Sling
Daggers of Throwing +3

Broad Rounded Flat Blades with alternating bands of gold and onyx going down them. They lack a cross guard or a handle around their tang, and each end of them ends in a ring.
Gem of Seeing
Cloak of Arachnidia
Spellbooks (5)
Languages
Spells Learnt
LEVEL 1: Magic Missile, Detect Magic, Read Magic, Identify, Light, Hypnotism, Hold Portal, Mending, Sleep, Shield, Alarm, Message, Wizard Mark, Fist of Stone, Armour , burning hands , Color Spray , Comprehend Languages , Unseen Servant, Grease, Feather Fall
LEVEL 2: Stinking Cloud, Alter Self, Levitate, Irritation, Invisibility, ESP, Flaming Sphere, Knock, Forget , Strength, Continual Light, Spectral Hand, Scare, Wizard Lock, Locate Object, Glitterdust, Mirror Image , Melfs Acid Arrow, Detect Invisibility
LEVEL 3: Fireball, Slow, Monster Summoning 1, Dispel Magic, Fly, Suggestion, Protection from Normal Missiles, Haste, Clairaudience , Clairvoyance (6), Phantom Steed, Sepia Snake Sigil, Bands of Sirellyan
LEVEL 4: Minor Globe of Invulnerability, Stone Skin, Shadow Monsters, Dimension Door (lost), Polymorph Self, Lesser Geas, Tongues, Remove Curse
LEVEL 5: Animate Dead, Cloudkill, Cone of Cold, Dream, Leomond's Hidden Lodge, Sending, Malakai's Teleportation Circle, Advanced Illusion, Monster Summoning 3, Teleportation
FAILED: Displace Self, Enlarge
Spells per Day (4/4/3/2) 41 pages used out of 100 pages