This series is a sequel to Frozen Frontier. This page has major spoilers for Frozen Frontier.
Taking place in the immediate after effects of Frozen Frontier, this is the first high level campaign featured on this channel. Our heroes explore a new and wild world with different laws of nature, strange environments, and intimidating monsters. What horrors await our heroes? How will they ever find their way home? What will be the costs?
Neal Pass Erickson - Dungeon Master
Ryan Hufschmid - Grimes
Nick Prouvost - Kel William Marshal
Episodes
Edit
01: Brave New World
7 April, 2019



Grimes
and
Kel William Marshal
leave the Volcano and see the snow is melting. They start to journey north to get home, when some mysterious phenomena start to interfeer in this Brave New World.
02: Retreating
28 April, 2019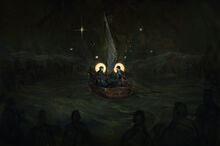 03: Advancing
23 June, 2019



04: Now Entering Demon County
7th July, 2019



The party venture into the Demon Land across the sea.
05: Pray for the Party
18th August, 2019



06: Northward Bound
15th September, 2019



The party continue to follow the sign of Matrigal in the sky though a lava filled canyon.
07: Hellhounded
13th October, 2019



The path to Matrigal leads the party though a Demon Fort on a Rocky Beach.
08: Lava Rising
17th November, 2019



The party fight though an army as they are being chased by lava
09: The Bridge
1st December, 2019



The party have to get across a massive bridge covered in Demons to continue their journey.
10: Shades of Gray
26th January, 2020



The party venture into the black and white realm of shadows.
11: Rock and Roll
22nd March, 2020



The party search the realm of shadows for a way out.
Homeward Bound
Cast
Player Characters
Locations

Caldonia

· Demon Realm · Shadow Demon Realm

Episodes
Community content is available under
CC-BY-SA
unless otherwise noted.