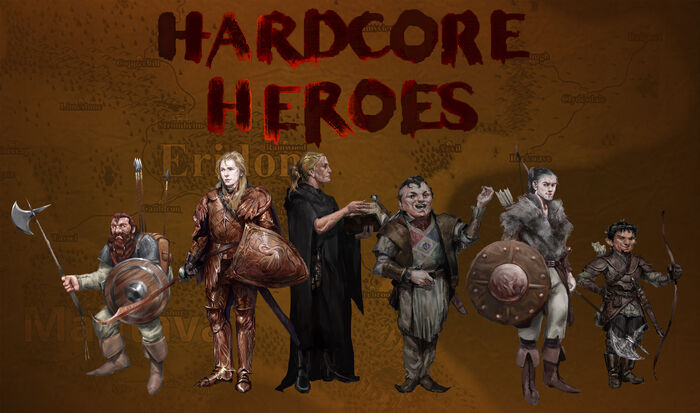 In order to utilize the fear of death, players will leave this show when their characters die. To make things even harder, character death happens at 0 hp (instead of -10) and we use the strict RAW (rules as written).
Cast
Neal Pass Erickson / Koibu - DM
Nick Prouvost - Malakai - Human Wizard
Sean - Van-Healsing - Human Cleric of Chis
Greg Hansen - Croak - Human Thief
Bijan "Teripper" - Corni - Gnome Fighter
Bastian Botta - Kain - Human Ranger
Max Meinicke - Mhorin - Dwarf Fighter
Ryan Hufschmid - Georg - Human Wizard

Episodes
Chapter 5 - Arcadia/Otherside
Hardcore Heroes
Player Characters
NPCs
Locations
Bromance: When you and your best friend form an unbreakable bond not even alignment can stop, adopt dogchildren together, then mourn their loss together, commit mass genocide together, and settle down in a house together. Gib us a daily life episode pls.
Community content is available under
CC-BY-SA
unless otherwise noted.