Droopy the Greifdiggr
Bastian Botta
CHARACTER NAME
PLAYER NAME
Shenanigans
2.Neal
SERIES
SYSTEM
Level 6 Cleric of Voraci
Lawful Evil
CLASS & LEVEL
ALIGNMENT
Kobold
Female
RACE
GENDER
2'5ft & 29lb
11
HEIGHT & WEIGHT
AGE
Small & 6
Left
SIZE & SPEED
HANDED

Black & White

Blue (R) & Black (L)

23
8
16
8

HAIR

EYES

Max HP
Strength
Dexterity
Constitution

Cuteness: 17, a ragged husky-like kobold

5
18
14
7
8

APPEARANCE

Intelligence
Wisdom
Charisma
Perception
Grub
Background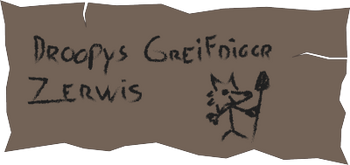 Appearances (13): Episodes 52, 53, 57, 59, 61, 70, 71, 72, 77, 87, 96, 112, 113,
Gravedigger, who found a dead priest of Voraci, took her symbol and buried her. More than appropriate, she was accepted by the godess. And now this simple soul wanders the land, offering her services to anyone, as long as someone is dead at the end.
Wears a black brigandine and basically nothing else. The holy symbol of Voraci is dangling on a chain around her neck.
Although a kobold, she looks incredible cute for one, like a ragged husky puppy. She has big eyes, one blue & one black and soft, furry skin with a black and white colouring. She likes the presence of people who are kind, and is especially fond of clerics of gods like Felumbra, Martha, Nerual and Kee.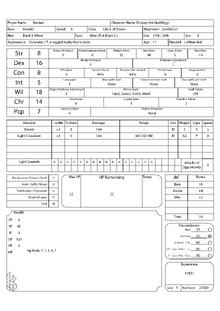 Weapon Proficiencies
Shovel
Light Crossbow
Brigandine Armour
Non-Weapon Proficiencies
Equipment
Light Crossbow
Shovel
Brigandine
Holy Symbol of Voraci (Necklace)
Business Cards (not self made)
Fire Trapped Bottle
Continual Light pebble
Languages
Kobold, Common (only understands, can't speak common)