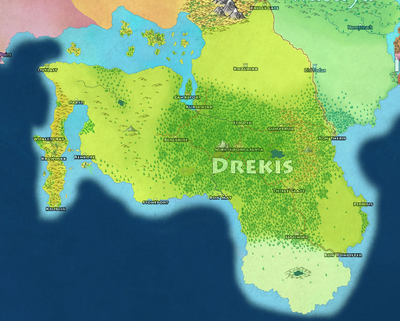 Capital: Wikkthronrarenta
Ruler: Queen Vuularia Wikk
Drekis is split into 6 Principalities, with a hereditary Prince or Princess of a family being the lord of the County.
Bon' is a prefix meaning River Mouth
Thikle' is a prefix meaning River Start or Where Water Comes From, very loosely, Spring Western hills are home to hill dwarves. Humans moved in and settled with them. Very peaceful human/dwarven relations.

Drekis has been involved in various wars over the years.
County Names
Community content is available under
CC-BY-SA
unless otherwise noted.