Tobey "Croak"
Greg Hansen

by Matthew Burger
CHARACTER NAME
PLAYER NAME
Hardcore Heroes
2e
SERIES
SYSTEM
Level 6 Thief
Neutral Evil
CLASS & LEVEL
ALIGNMENT
Human
Male
RACE
GENDER
5'8" & 215lb
20 (Deceased)
HEIGHT & WEIGHT
AGE
Medium & 12
Right
SIZE & SPEED
HANDED

short, oily, curly hair

18
13
16
13

HAIR

EYES

Max HP
Strength
Dexterity
Constitution

Small and rotund man. His eyes are watery
and slightly bulging in a frog like manner.

12
15
13

APPEARANCE

Intelligence
Wisdom
Charisma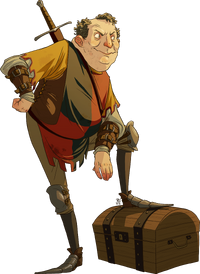 Player Character in Hardcore Heroes.
First appeared in Hardcore Heroes episode 1.
Last appearance was Hardcore Heroes episode 12. Slain by Zinly.
Croak is oft described as a small and rotund man with short, oily, curly hair. His eyes are watery and slightly bulging in a frog like manner. His appearance and apparent clumsiness quite satisfactorily belies a deftness of hand and lightness of foot uncommon to men of his size.
Croak hides his leather armor beneath a colorful but plainly made tunic and vest that he puts the utmost effort in to keep clean and pressed. Desiring to be presentable as he schmoozes with anyone and everyone in town. Yet prone to excess, Croak is never far away from a delightful pastry, greasy meat pie, or cup of wine and the evidence of his meals always seem to find their way onto his clothes despite his best efforts.
For protection during his less than honest money making ventures Croak has a bandolier of 10 darts around his chest and a broad sword on his back. His clumsiness and his persona slip away as easily as slipping off the bright tunic revealing his darker leather armor and persona underneath.
On his 18th nameday, he moved to Shirebrook proper and got introduced to the world of crime by some Abed Twotoes, who since has left town towards Thornwood.
Weapon Proficiencies
Club, Dagger, Knife, Dart, Short Bow,
Hand rossbow, Lasso, Sling, Staff,
Shortsword, Long sword, and Broadsword
Non-Weapon Proficiencies
Pick Pockets (70) , Open Locks (75), Find/Remove Traps (5)
Move Silently (55), Hide in Shadows (55), Detect Noise (15)
Climb Walls (60), Read Languages (0)
Hunter (basic wood lore, butchering, basic tracking)
Equipment
Short Bow
Thief's Picks
Broad Sword
Leather Armor
Languages