Background
Edit
Natural Stats: Str: 18/95, Dex: 18, Con: 17, Int 11, Wis 15, Cha: 4, Per: 13
Appearances (17): Episodes 50, 51, 60, 79, 80, 82, 83, 85, 93, 97, 98, 106, 109, 111, 128, 129, and 133.
A common mercenary, though unnaturally strong, tall and unnerving to most in his presence. His towering stature reminds many that he is not to be trifled with.
He is seeking fortune and entertainment in Bergshire, and is not above taking morally questionable jobs to get it. Though truly, those are most of the ones an adventurers gets in that town.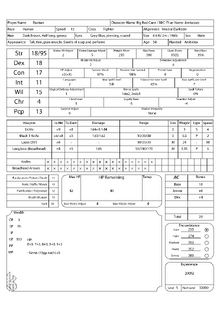 Weapon Proficiencies
Edit
Sickle (Master)
Knife
Longbow
Non-Weapon Proficiencies
Edit
Jumping (1 slot)
Reading/Writing (2 slots)
Running (1 slot)
Rope Use (1 slot)
Swimming (1slot)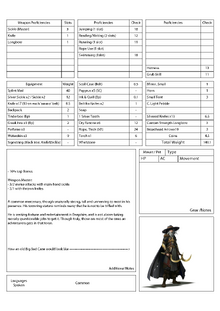 Equipment
Edit
Splint Mail
Custom Strength Longbow
Sickle of Castration
Silver Sickle x2 / Sickle x2
Knife x17
Silvered Knives x13
Perfume x3
Signetring (Black Iron, Knife&Sickle)
Belt for Knifes x2
Mirror, Small
C. Light Pebble
Magical Equipment
Edit
Sickle of Castration
When used to castrate a person, they are guaranteed not to bleed out (otherwise 30% chance of death will occur). Any male hit with this weapon in combat is given visions of their future castration and must pass a fear save or flee for 1 round. +1 to hit, +1 to damage, does not affect ethereally shifted creatures.
Languages
Edit
Community content is available under
CC-BY-SA
unless otherwise noted.