Balrog Blacksteel
Ryan Hufschmid

art by esteban39
CHARACTER NAME
PLAYER NAME
Dicing with Death
2.Neal
SERIES
SYSTEM
Fighter 3/Cleric 4
Lawful Evil
CLASS & LEVEL
ALIGNMENT
Dwarf
Male
RACE
GENDER
4'6" & 170lbs
58
HEIGHT & WEIGHT
AGE
Medium & 6
Right
SIZE & SPEED
HANDED

Long white mane/beard

Rusty brown

38
11
13
19

HAIR

EYES

Max HP
Strength
Dexterity
Constitution

Barrel chested and mean; dark, ruddy skin

14
11
5
10

APPEARANCE

Intelligence
Wisdom
Charisma
Perception
First appeared in Dicing with Death Episode 11.

Last appeared in Dicing with Death Episode 16. Killed by Purple Worm.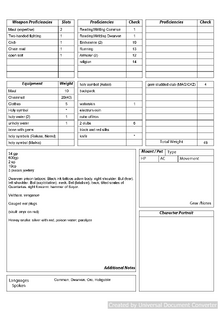 Dwarven prison tattoos: Black ink tattoos adorn body:
Right shoulder: Bul (fear).
Left shoulder: Bal (exploitation).
Neck: Bel (fatalism).
Back: Tilted scales of Quantarius.
Right forearm: hammer of Sayor.
Gauged ear plugs
History
Spent time in prision and is now an outcast. Did time for concluding with orcs.
Distantly related from his cousin Zweihard Blacksteel (Dicing with Death Episode 133).
Weapon Proficiencies
Maul, Two-handed Fighting, Club, Chain Mail, empty spot
Non-Weapon Proficiencies
Reading/Writing Common 1, Reading/Writing Dwarven 1
Endurance (2) 19, Running 13,  
Armorer (2) 12, Religion 14,
Equipment
Gem Studded Club, Maul, Chainmail, Holy Symbol, 2 Clubs, Knife,
Languages
Common, Dwarven, Orc, Hobgoblin