The age of strife is an period of time where the vast human empires of ages past have fallen to their own greed, thirst for power and an Elven-Dwarf alliance. The Great War has reduced humanity to but a tiny fraction of itself, both in number and in power. Monsters roam freely and unchecked while Orcs and Goblins claim the still smouldering human strongholds.
Neal Pass Erickson - DM
Bradley - Jonathon Ramsey, Tybarodite
Jeff - Toran Amberfall, Stefan Thorne
Jennifer Latham - Amy Amberfall, Ginger Thorne
Patrick - Radric Amberfall, Luther Thorne
Tyler - Arthur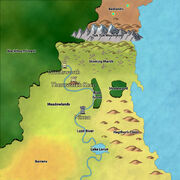 Community content is available under
CC-BY-SA
unless otherwise noted.